MOSH PITT: Drum & Bass Rave inside the HOTBOXX CAGE
Club Night, DJ, Drum n Bass, Electronic,
1st 100 TICKETS FREE
Grab Yours Before They Sell Out
Electronic Party Ireland presents:
MOSH PITT: A Drum & Bass adventure in Dublin, bridging the gap between Djs & Ravers.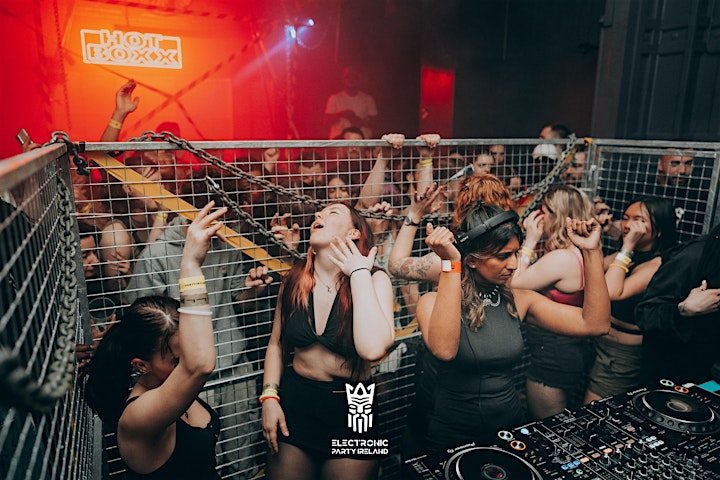 THE MIGHTY CRAIC
We are bringing the CUSTOM BUILT CAGE to revolutionise Drum & Bass in Ireland.
The DJ booth will be positioned in the middle of the dance floor, inside a solid metal mesh HOTBOXX CAGE, surrounded by you, for an Adrenaline fuelled, Merciless DRUM & BASS Rave.
All the DJs will be locked inside a high metal BOXX cage, surrounded by you, as they command and wield their weapons on you, Hotboxx Boiler Room Style..
Giving ravers a 360º surround plugin experience. Refunds accepted 7 days before the event.
Join us as we escape from our demons, enter the darkness, raise hell and party without inhibitions.
Our Mission: Specially curated nightlife events, for unforgettable and mind blowing adventures, so you can Rave To The Grave.
Our Vision: Make Ireland a tourist hotspot for Electronic Music in the world.
Dress up in your best Raver outfit, if you can.
Event Terms:
R.O.A.R | Over 18s Only | ID Required | No Refunds This is an inclusive space. Discrimination of any sorts, will never be tolerated.
* This event has expired! There are no longer purchaseable tickets
Upcoming Events from The Sound House